This post is part of a series showcasing real-life survival stories. 'Lessons Learned' is a way for individuals and families to share what they learned from living through a disaster. To read all Lessons Learned stories, click here. To submit your own story, click here.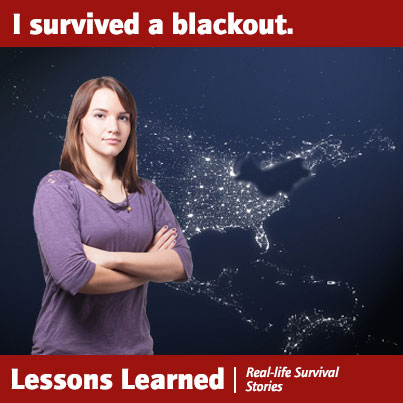 The Northeast Blackout of 2003 affected 45 million people, including my family. The blackout started on August 14.

I was 13 at the time, with a 10-year old sister, 3-year old brother, and two older brothers who were 15 and 18. My younger sister had a blast swimming in our neighbor's pool during this time, but I didn't dare get in because I didn't want to be covered in chlorine for days. As a pre-teen girl, the idea of not taking a shower for four days was mortifying. There was one day when it poured rain so hard that I was actually able to get in my bathing suit and take a quick shower in the rain.

During the day we felt like we were roasting and wished we had something like a solar generator to power a simple fan. The nights were alright because it gave us a chance to cool off, but scary because everything was pitch black. Fortunately, my mother was prepared ahead of time with emergency candles, 72 hour kits, and a supply of food storage and water. The biggest thing we should have done differently is having moist wipes like the Ready Bath Basics, and a portable toilet. Luckily, our neighbors let us use their pool water to flush our toilet. We wished we had more water because we went through it so quickly. Many food storage products require water to prepare them, which is something we did not consider fully when deciding how much water to store.

Natalie Haight
Thanks Natalie, for sharing your survival story. You did a great job of pointing out essential items to have in an emergency.
Luckily Natalie's family could stay in their home and were able to survive with their emergency kit that included water, food, and lighting. Fellow preppers, storing water should be a priority for you and your family.
Here are a couple lessons we gleaned from Natalie's story:
Store enough to have at least 1 gallon per person per day for 14 days. Store more to make bathing and toilet flushing more than a luxury. Click here to see Emergency Essentials' water storage options.
Consider how you might keep your family cool if you're struggling to survive hot summer weather. You might open all the doors and windows to create ventilation, but do you have netting to keep out insects? Click here to explore various survival scenarios.
Have a swimming pool.*
What did you learn from Natalie's survival story?
*Tee hee hee. Juuust kidding.