Do you love getting your Emergency Essentials catalog each month, but feel like you just don't have enough time to sit down and read it? Well, we've got the perfect solution for you! Now you can shop at home or on the go with our NEW Online Catalog. Waiting in line at the bank? Waiting for your waiter to bring you your check? Hop online and check out the latest from Emergency Essentials.
Simply go to BePrepared.com, and on the left-hand side of the homepage, look for the "quick shop" heading. Click on the "online catalog" link.
If you click on any of the pictures below, they will take you to the online catalog. (Note: The online catalog works best in Google Chrome or Firefox) The online catalog has the same layout as the printed version. Here's a sample page from our July catalog: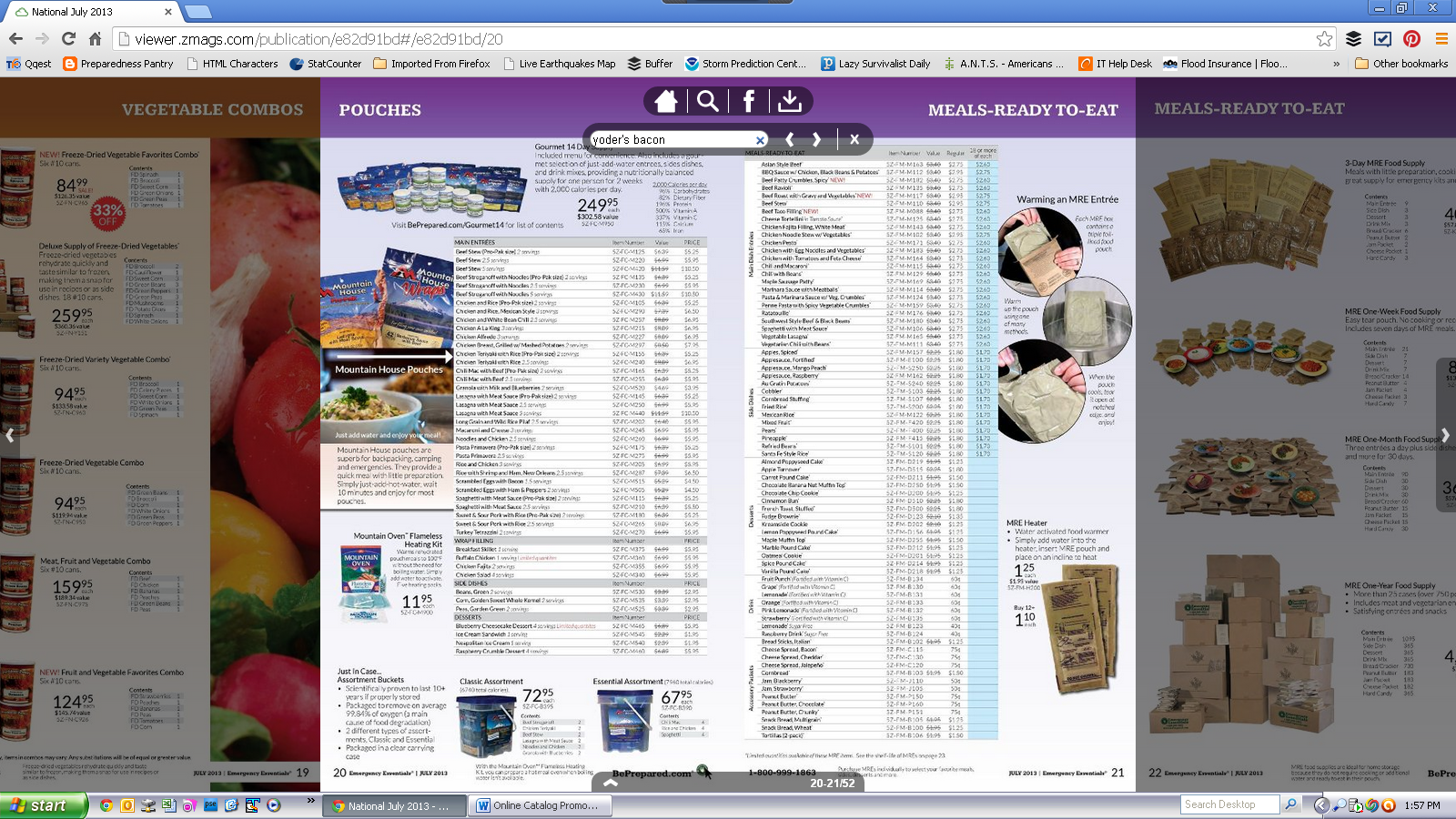 If you are familiar with our old online catalog, you might notice that we've added some new features to this version. Here's a quick run-down of the features you should know about.
#1. The Zoom
You can enlarge the printed text of the catalog (a plus sign will show up if you hover over a blank area of the page). #2.
Add to Cart
Click on an item in the online catalog, and its product page comes up so you can learn more or add it to your shopping cart. With this option, you can now buy products instantly without having to call in, or fill out an order form and send it in.
#3. The Scroll Bar
At the bottom of the online catalog, there is a scroll bar that allows you to skip to specific pages if you know exactly what you're looking for. Once you scroll to the page you want, click on the mini "preview" version and it will take you to the full-size page.
#4. The Tool Bar
At the top of the catalog is a toolbar with icons for
home
,
search
,
Facebook
, and
download options (arrow pointing down)
. These options allow you to search the catalog for specific items (search results are highlighted in blue), post pages of the catalog to Facebook, or download pages of the catalog onto your computer. Also, if you are scrolling through the catalog, the home icon lets you go back to the cover page.
These are just a couple of highlights to get you started on your online shopping journey! Now it's your turn to test it out. Go onto BePrepared.com and try out the NEW online catalog and tell us what you think.
Will I Still Get a Printed Catalog?
But are you a purist?—you love the feel of a book in your hands; you live for turning its pages. If you are on our mailing list, you will still receive a printed copy of our catalog!
I Want to Subscribe to Your Catalog Mailing List (for Printed Catalogs)
If you aren't on our mailing list and would like to get a printed catalog each month, just click on the tan box at the top of the BePrepared.com homepage that says "request a catalog."