It's time for a
Mountain House #10 can sale
! Every Mountain House can is
25% off in July
. So if you've never tried Mountain House freeze-dried entrees, sides, fruits, or veggies, now is a great time. If you're already a fan, now is a great time to stock up on your favorites. Here are a few varieties I especially recommend:
Pilot crackers:
You might think this is a strange pick, but I love these
crackers
. They're similar to Saltines, but they're not salted, and they're a little thicker and more substantial. They're great for anything from making mini pizzas, to bruschetta, to dipping in soup, or making quick home-made "croutons" in a pinch. They're also divine with cottage cheese and peaches on top (I like a
tiny
pinch of cayenne, too).
Long Grain and Wild Rice Pilaf
: all I can say is YUM. This pilaf features mushrooms, broccoli, green beans, sweet red peppers, and parmesan cheese. Tons of flavor, great texture, and pretty, too! That's what I call a food storage "triple threat." I mentioned cottage cheese above as a topping for my
Pilot Crackers
. This is one of the best ingredients we carry, as far as I'm concerned. It's delicious alone, with fruit or herbs (and sometimes both!), and in salads. But it's also delightful reconstituted, drained, squeezed out and treated as ricotta cheese for recipes like stuffed shells, lasagna, pizza, dips, etc. Try it—you will love it. One of my favorite things about Mountain House Cottage Cheese is the fact that use as much or as little as I want, then seal the rest back up in a bag and stick it back in the can. That way I don't worry about half the container going bad before I'm ready to use it again. Cottage cheese is also a great source of protein for those who don't eat meat, but still eat dairy.
Beef Stroganoff:
I tend to eat more seafood and chicken than
beef
, but when I do eat beef,
stroganoff
is one of my absolute favorites. Mushrooms + pasta + creamy sauce + beef? It simply doesn't get better than that.
Not a fan of my picks? I've listed a few customer favorites below, along with actual reviews submitted to our website.
Mountain House Beef Stew
Yummy! (5 Stars)
My husband and I were surprised at how yummy this is! It tastes just as good as many of the homemade stews I've eaten over the years. Of course, the beef bits are smaller than what you might have in homemade, but the flavor is very good. I would definitely recommend this one be in your pantry. Posted on
11/19/10
by
Tiffany
Makes great leftovers (5 Stars)
This stew makes great leftovers. It tastes homemade. We ladled this over egg noodles and feasted for days. Posted on
8/7/08
by
Richard
Granola with Milk and Blueberries
Healthy and a Treat! (5 stars)
Not a big cereal or granola fan, but bought the packet first intending to use for camping. It is great and I have moved to the #10 cans. Easy to fix, add water, great flavor and crunch. Highly recommend as you don't even need hot water for this. Have put some in snack bags and leave at work for those hurried mornings when I run out the door without eating. Posted on
9/23/11
by
Jacqui
A must if you buy any long term foods (5 Stars)
MH Granola with Blueberries and Milk is incredibly tasty. It has the perfect amount of "crunch" and flavour. This stuff is also very dense calorie-wise and only requires cold water to eat if you prefer. I highly recommend this as one of the top foods to buy because it is morale-lifting and tasty, easy to prepare and has good nutrient content. The trifecta of emergency foods! Posted on
5/9/11
by
Mark
Buy it! Trust me... (5 Stars)
This isn't just good, it's GREAT. We eat this instead of regular cereal now as a treat. My 2 year old loves it as does my wife. The speed and convenience is awesome, but the best part is the flavor. It is genuinely delicious and it is packed with tons of blueberries. There were so many when I first opened the can that I thought it needed to be mixed, only to Replace out that it was like that throughout the #10 can. The shelf life is 25 years, so you can keep this in reserve for a LONG time. Posted on
4/4/10
by
Carlos
Lasagna with Meat Sauce
Must buy more! (5 stars)
I thought this dish was quite good, was definitely surprised at how melty the cheese was! I threw in some of the dehydrated chopped spinach for color. Wasn't too salty and didn't leave that fake, chemically after taste that some of the frozen meals have. I love how quick and easy these meals are. The leftovers stood up well for lunch the next day, an added plus. Posted on
7/15/11
by
Ashly
Home Made Taste (5 stars)
The aroma when opening the pkg is like taking a fresh home made lasagna out of the oven. Some of us have been taste-testing for lunch at work, and this is the unanimous favorite for flavor. Use a little less boiling water than instructed, then add a little more at the end if you need it. Don't make it too loose. Posted on
6/3/12
by
Dave T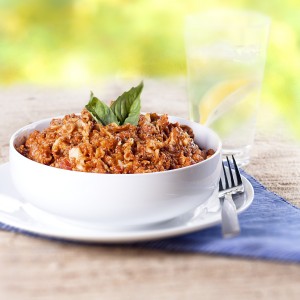 Have you tried
Mountain House foods
before? If not, what do you want to try? If so, what are your favorites? Let us know in the comments. --Urban Girl