[caption id="attachment_20675" align="alignright" width="300"]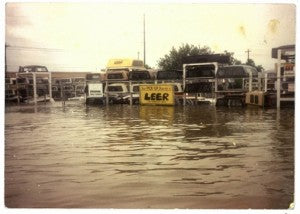 Hurricane Alicia - photo courtesy of Johnson GT[/caption] In 1983, Hurricane Alicia slammed Houston and Galveston, killing 21, causing $2.6 billion in damage and forcing changes to Houston building codes after gravel atop skyscrapers shattered building windows. I was living in Houston when Alicia hit. I remember giant tree tops making circles in the wind. I remember the crash from a tree falling. I remember the rain smacking against our taped-up windows. I remember we lost the contents of our freezer after the storm knocked out power. But what I remember most is the heat. Our electricity didn't get restored for a week after the storm ended. It was August in Texas – sauna weather anyway – and we weren't allowed outside because of the damage. We children were miserable in our overheated, humid home. All things considered, my parents had prepared well to weather our first hurricane. We'd boarded and taped up the windows. (Studies have since shown that taping windows is ineffective.) We stockpiled food and water. We even held a barbecue before the hurricane to clean the raw meat out of our freezer in case we lost electricity. But we didn't think of power loss beyond that. In fact, a vivid memory is an electric fan parked near the front door, silent and useless, days after the hurricane. We had central air conditioning, so the fan had to have been placed there for the emergency. Atlantic hurricane season officially started June 1, but it's already been a busy year. The first hurricane of 2016 appeared in January. A tropical storm hit the Carolinas over Memorial Day weekend and another hit Florida a week later. Some
forecasters are predicting
the most active season since 2012. Now is the time to start preparing for hurricane season, especially if you live in a coastal area.
Ready.gov has a list
of preparation tools and ideas from this year's National Weather Service Hurricane Preparation Week, May 15-21. These giant storms often cause widespread, long-lasting power outages. Having a power source can make a huge difference in our ability to communicate information and needs. During Hurricane Sandy, only a few places in lower Manhattan and New Jersey had power. New York University and Princeton University were two of them. They are both on a
microgrid
, a partially independent power network. "If you take a look at the blackouts that were in the New Jersey, New York, Connecticut realm of Superstorm Sandy, the only places that were up and operating were those places that had a microgrid," Steve Pullins, Vice President at Hitachi Microgrid Solutions,
told Nexus Media
. [caption id="attachment_20676" align="alignright" width="300"]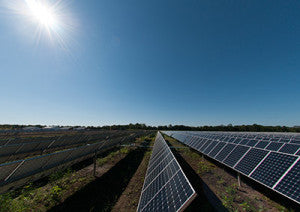 Princeton's microgrid - via princeton.edu[/caption] Look at
Princeton's microgrid
. The university has an on-campus power network that gets power from a nearby generator and solar panel field. Normally, the university is connected to the surrounding power grid and both takes from and supplies power to that grid. However, during Hurricane Sandy, Princeton's microgrid was able to disconnect from the main grid and power the campus. For a day and a half, until the surrounding town got power back, emergency workers were able to use the university to recharge phones and equipment. The university also set up a hospitality area where local residents could warm up, recharge electronic devices and use wireless Internet service. "For a day and a half, we had to generate everything the campus needed,"
said Ted Borer
, Princeton's energy plant manager, in a Princeton news story. "Now, we can run the campus as an electric island in times of crisis." Here are some ways to turn your home into an electric island, from
Ready.gov
, the
American Red Cross
, and the
U.S. Department of Energy
. Have a fully stocked emergency kit including food and water, a flashlight, batteries, cash in small bills, and first aid supplies. Keep your cell phone and other battery-powered devices charged and have an alternative charging method,
like a generator
. If you have an electric garage door opener, know how to release it manually. Keep your car's gas tank full. You can run a vehicle for power, but not in an enclosed space, unless you like carbon monoxide poisoning. If you use a power-dependent or battery-operated medical device, tell your local utility so it can prioritize your home. Have a backup plan. Replace out where to buy dry ice. Fifty pounds will keep a fully stocked fridge cold for two days. Without it, an unopened fridge will keep food cold for only about four hours. A half-full, unopened freezer will keep food cold for about 24 hours. Food in a packed, unopened freezer will stay cold for twice that long.
a Rafflecopter giveaway