What's an emergency? Most of us think of natural disasters: hurricanes, floods, earthquakes. But what about when mom is sick and dad isn't around and five kids ages 3 to 13, most of whom have various dietary restrictions, need to be fed? That happened this week. Fortunately, during the last two weeks we've been trying meal pouches from the Mountain House® Classic Assortment (SKU: FC B395). The bucket contains 12 pouches of six different meals. Two pouches of
Beef Stroganoff
to the rescue.
Beef Stroganoff
"What's Beef Stroganoff?" one of my children asked. "It's ground beef and noodles," I replied.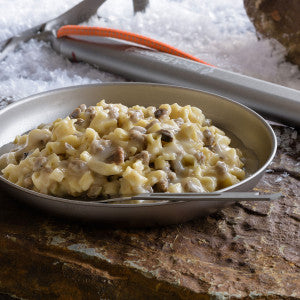 Notice I neglected to mention the traditional mushrooms and sour cream. I didn't want them to run away from the table, screaming, before they'd tried it. Some of my children are incredibly picky. I have an autistic, 5-year-old son who, until last year, ate fewer than 10 foods. I also have a special needs 11-year-old who, at nearly every dinner, informs me that she's "allergic" to everything on the table. She was the only one who didn't try the Beef Stroganoff. Everyone else liked it. Though the rehydrated mushrooms were large enough to be obvious, they apparently looked enough like ground beef to fool the children. I later caught my 5-year-old sitting on the table next to the serving bowl, shoving stroganoff into his mouth with both hands. We liked the sauce's flavor, probably because it was more cream-of-mushroom soup than sour cream. The mushrooms were not the least bit rubbery, which, frankly, surprised me considering their dehydrated-rehydrated status. However, the best part of the meal for me was its ease and speed. I'd been sick all day and wasn't up to cooking. Two packets of Beef Stroganoff and a salad made a quick, healthy, tasty dinner that cost less than a trip to a fast food restaurant.
Noodles and Chicken
An advantage of variety buckets like this one is that it allows family members to realize they actually enjoy food they normally wouldn't try. My 9-year-old fruit hater discovered she loved the
Granola with Blueberries and Milk
. My 3-year-old little carnivore learned that the noodles in the
Lasagna
were as good as the meat. (You can Replace
my review of those products here
.) Occasionally, however, it means running across a food that one person loves but the rest don't. I thought the Noodles and Chicken tasted great. The noodles were tender but not soggy, the chicken was flavorful and the sauce was thick and spiced perfectly. However, a few months ago, my children simultaneously decided they didn't like chicken. (I wish they'd made that decision before I bought the 40-pound box of frozen chicken breasts, rather than after.) My 3-year-old was the only one who ate more than a bite. She asked for seconds. The rest asked for hot dogs. Food storage does no good if no one likes it. The nice thing about this Classic Meal Assortment bucket, and other
food storage buckets
, is it allows you to try many different entrées. Then, when you see what family members like, you can buy
pouches
or
larger cans
of their favorites. You're not wasting food or money.
Chicken Teriyaki with Rice
I've discovered one way to get my kids to (occasionally) eat chicken: put it in Chinese-style recipes. I served one of the two
Chicken Teriyaki with Rice pouches
according to the package instructions. I made stuffed egg rolls using the other pouch. The children who didn't like chicken ate the egg rolls, and the ones who didn't like egg rolls ate the Chicken Teriyaki with rice. Success.
Stuffed Chicken Teriyaki Egg Rolls
Ingredients:
1 package coleslaw mix OR 3 cups shredded cabbage and ¼ cup grated carrot 2 Tablespoons soy sauce 2 Tablespoons water 2 teaspoons ground ginger 2 teaspoons garlic powder 1/8-1/4 teaspoon Chinese 5-spice powder (you can get many varieties in supermarket spice sections, but the best is in Asian stores) Green onion to taste (optional) One pouch Mountain House Freeze Dried Teriyaki Chicken with Rice, prepared One package egg roll wrappers (You can Replace them in the produce section of grocery stores) Cooking oil spray
Directions
Preheat oven to 425 degrees. Spray a cookie sheet with cooking oil spray. In a large saucepan or wok, sauté coleslaw mix or cabbage and carrots, and green onion, with 2 Tablespoons soy sauce and 2 Tablespoons water. Add ginger, garlic powder and Chinese 5-spice powder. Add Mountain House Freeze Dried Teriyaki Chicken with Rice, stirring to prevent burning. Remove pan from heat. Put about ¼-1/3 cup mixture into each egg roll wrapper. Roll according to directions on package. Place on cookie sheet. Spray the tops of egg rolls with cooking oil spray and cook for 10-15 minutes, turning halfway through, until lightly browned. Makes 12-18.