We know you love deals, and sometimes you're just looking for something a little cheaper. This is a list of all our Black Friday deals that are under $10. You're welcome.
Mountain House Cinnamon Fuji Apple Slices #10 Can (Sale Price: $9.99 – Save 62%)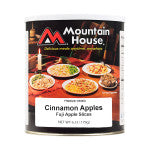 Cinnamon apples are delicious, and the freeze-dried variety is no exception. These Mountain House cinnamon apples are amazing with all sorts of meals, including desserts, salads, yogurt, or just right out of the can!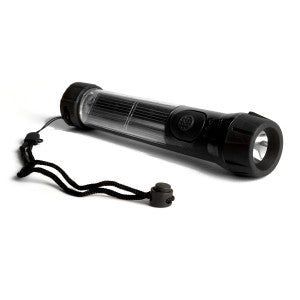 Hybrid 40 Solar Flashlight (Sale Price: $8.99 – Save 64%)
Everybody needs a good flashlight in their emergency kit (or camping or night hikes or, well, you get the picture). But isn't it just the worst when you go to use your flashlight and the batteries are dead? Mourn no more! This flashlight recharges from any light source. Yes, you heard me right –
any
light source. It runs for 8 hours on one full solar/light charge and will even hold that charge for years, so you can charge it up, put it in your emergency kit, glove compartment, or wherever you stash flashlights, and then forget about it until you need it. If capturing light isn't an option, you can still use batteries as backup. With this flashlight, you need never fear about being left in the dark.
Aquamira Water Bottle with Filter (Sale Price: $9.99 – Save 66%)
This water bottle is more than meets the eye. It's also clean filtered water on the trail or in an emergency. Simply fill this water bottle with water and the built-in filter will reduce chlorine, bad taste, and odors, while also certified to remove more than 99.9% of Giardia and Cryptosporidium – the two leading causes of waterborne illness. This is definitely a great addition to your outdoor gear, and fits well in standard cup holders or bicycle cages.
High Uinta Gear 13-Function Knife (Sale Price: $1.99 – Save 71%)
Everyone needs a knife in their emergency kit, so why not get one that has multiple functions? This knife includes a 2" stainless steel blade, phillips and standard screwdrivers, reamer punch, nail file and cleaner, sewing eye, 2" double-cut saw, spring loaded scissors, scaler and hook remover, corkscrew, can opener, bottle opener, and key ring. That's a lot of stuff for just two dollars! Again, you need a knife. Might as well go with something that offers you even more options, just in case.
Instant Nonfat Fortified Milk (Sale Price: $9.99 – Save 54%)
Milk. You love it, but come an emergency, you may not be able to Replace it in the stores. Fortunately, we've got you covered. Our Instant Nonfat Fortified Milk gives you bone-strengthening calcium and is fortified with vitamins A and D, making it a healthy drink or baking and cooking ingredient. And, unlike some powdered milks, this one gives you a fresh, straight from the store (or cow) taste, not that burnt aftertaste that is so common among powdered milk. Our customers love it, and so many people can't be wrong. Now's the time to stock up on milk.
Freeze-Dried Green Peas (Sale Price: $9.99 – Save 50%)
Green peas go with everything. Casseroles, soups, stir fries, side dishes…you name it. And, these freeze-dried greens are an excellent source of vitamin C and fiber, as well as a good source of protein, vitamin A, and iron. Tell me that's not a good looking list of nutrients! These peas are essential for your emergency food storage. It'll be music to your ears when you hear your little ones saying, "More peas, please!"
Holiday Red 115-Hour Plus Emergency Candle (Sale Price: $3.79 – Save 57%)
When the power goes out, you know what to do…Light it up! These emergency candles burn clean, odorless, and smokeless, making them a great option for indoor use during power outages. Each candle burns for 115 hours straight, and since you won't need it during the daytime as much, these candles will last you a very long time. The perfect addition to your emergency kits.
Ultra Warmer (Sale Price: $0.75 – Save 69%)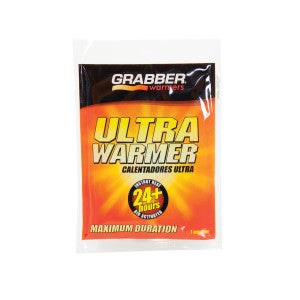 These warmers provide more than 24 hours' worth of constant heat. They are safe to use and environmentally friendly. Line your sleeping bag with them, tuck them in your jacket during sporting events, or just have some ready to use in an emergency by keeping them in your emergency kit in your home or car.
Emergency Gas Wrench (Sale Price: $2.99 – Save 70%)
Gas leaks can be very dangerous, and they can come about by earthquakes and other disasters. If there's a gas leak in your home, you need to shut the gas off right away, since gas leaks are a fire hazard. Keep this emergency gas wrench near your gas valves so you'll always know where it is when you need it.
Emergency Whistle (Sale Price: $0.35 – Save 53%)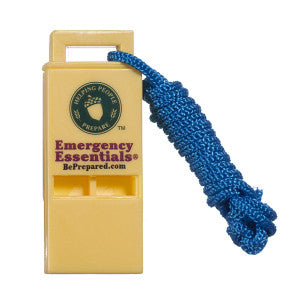 Jiminy Cricket hit it right on the money when he said, "When you're in trouble…give a little whistle!" Having an emergency whistle with you can make a huge difference in getting help. Attach the lanyard to your hiking bag, camp gear, or in your emergency kit, so when you're in trouble, this little whistle can help others Replace you.
6-Gallon Bucket with Lid (Sale Price: $5.99 – Save 53%)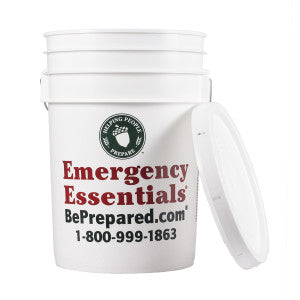 Buckets are great for storing food. They're high quality, food-grade, and stackable – everything you want (and need) in a good food bucket for your storage! You can store bulk grains, cereal, flour, sugar, and basically anything else that fits! Save storage space by stacking these buckets on top of each other. Dump in your food, toss in an oxygen absorber, and cap it off with the included lid and you're good to go!
Steak Seasoning Supreme (Sale Price: $8.99 – Save 55%)
Every steak needs its signature seasoning, and this is the perfect one to go with your emergency food storage or kitchen pantry. Season you meat for a most excellent taste you will be renowned for.