Now through the end of February, you have the chance to get your favorite Mountain House cans for 25-50% off! Crisp vegetables like Sweet Corn and Garden Green Peas, savory entrees like
Chicken a La King
, and desserts like sweet
Raspberry Crumble
will help add a gourmet feel to your meal while camping, at home, or in an emergency. Mountain House's wide variety of options makes it easy to satisfy even the most selective taste buds. Mountain House, a part of Oregon Freeze Dry, pioneered freeze-dried food, making it weigh less and taste better. Mountain House has been trusted to feed U.S. troops in every theater of combat since the 1960s. Their 40-year legacy has provided high quality, fully cooked, nutritious meals for troops and citizens alike. Check out some of our favorites:
Just add boiling water and enjoy the succulent combination of tender beef, mushrooms, and noodles smothered in a rich sour cream sauce.
Start your day off right with a big morning breakfast—a delicious blend of eggs, hash browns, pork sausage, onions, and peppers all scrambled into one delightful skillet. Great to eat on the go or as a sit-down meal with the family.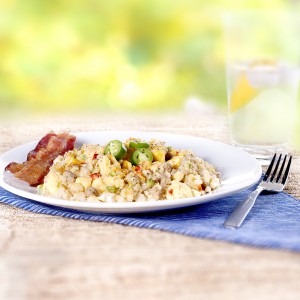 For a flavorful dessert to put your sweet tooth to rest, enjoy this premium raspberry sauce topped with chocolate cookie crumbs.
Hearty granola with milk and tart blueberries— it's irresistibly delicious! Eat it as a filling breakfast to keep you going all day or as a snack when the "mid-afternoon munchies" hit. Either way, you're adding flavor and nutrition to your diet for 25% off!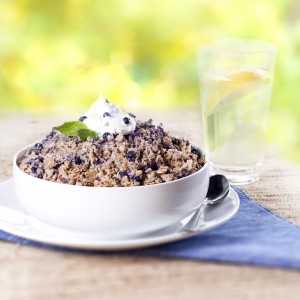 Spend the evening in the heart of Italy with this traditional entrée that combines tomato sauce, pasta, beef, and cheeses. This family favorite comfort food will leave you satisfied—and your kids will love it, too.
Make a nutritious meal for your family with this savory combination of macaroni, beans, and ground beef smothered in a delicious tomato based chili sauce. Just add water and voilà—a flavorful meal adults and children will love.
Don't miss your chance to get these delicious food storage meals and more at a price that'll have you running back for more. Check out all the Mountain House sale items
here
. Do you have a favorite Mountain House meal?