The
55-Gallon Water Barrel Combo
is a great option to give you peace of mind during an emergency or city/county-wide boil order. During the month of October, this combo is on sale for $81.99, a $124.85 value. This combo will allow you to have clean, usable water stored right in your home if your normal water supply is disrupted or contaminated. This combo includes:
55-Gallon Water Barrel: The minimum recommended amount of water for an emergency situation is one gallon per day per person for two weeks. This includes water for drinking, minimal cooking, and simple hygiene needs (sponge bath and teeth brushing). This means the 55-gallon barrel will provide:
- 1 gallon of water for one person for fifty-five days - 27.5 gallons per person for two people (nearly a month's supply) - 13.75 gallons per person for four people (about a two week supply)
1 Emergency Siphon: Allows you to access your water quickly from your 55-gallon barrel.
1 Barrel Buddies II Bung and Gas Wrench: This tool will help you to open the barrel bungs with ease, giving you easier access to your water and allowing you to siphon water out. This tool is great because it can also be used as a wrench to turn off your gas valve during an emergency.
You'll definitely need these two tools to help you access the water stored in your 55-gallon barrel safely during an emergency. Our
55-Gallon Barrel Combo
is a great value and an excellent way to get started storing water for shelter-in-place circumstances.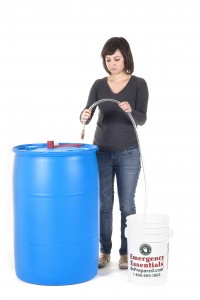 If you're interested in getting a
55-Gallon Water Barrel Combo
, but you're a first time barrel buyer, there are a couple of things that you should know about how to safely store and retrieve your water.
Here are 5 frequently asked questions that first-timers often ask:
What are the barrels made of?
The barrels are constructed of sturdy, food-grade, # 2 BPA-free polyethylene plastic. Each barrel is dark blue, limiting light exposure that can encourage algae growth in your water.
Where should I keep my barrel?
If you have a basement, storing your barrel there would be ideal. In the basement, your barrel would be protected from excess heat and light. But if you don't have a basement, you can keep your barrel anywhere you have room for it—on a back porch, in a carport, laundry room, or mud room. However, we
do not
recommend keeping it in the garage near engine fumes and where products such as fuels, oils, and paints are stored. Even though thick plastic seems impermeable, it is actually porous and will eventually absorb any chemical odors in the environment. These odors could then leach into your water making its taste unpleasant. We also caution against placing your barrel directly on a concrete floor. We recommend placing planks or a sturdy wooden pallet under the barrel before filling. This provides a breathable barrier to help prevent mold and mildew growth. Once it's filled, it's not going anywhere--the water itself will weigh 440 lbs.! If you keep your barrel outdoors, you might want to get a [Barrel Bag] to slip over it to reduce accidental contamination from soil, bird droppings, and dust.
What in the world is a bung?
Bungs are the two white plugs on top of the barrel that allow you to fill your barrel and access your water. They are nearly impossible to remove without the proper tool. That's why the 55-gallon combo comes with a bung wrench to help you open your barrel without breaking the bungs.
Do I need anything else?
Additional tools available include the
Siphon Hose Adapter
, which allows you to attach your siphon hose to a regular garden hose—useful for filling your barrel or emptying it to your yard, garden, bathtub, or wherever you choose. We also offer a [Drinking Water Safe Hose] in 25 and 50-foot lengths, which would be helpful in filling your barrel from your kitchen or bathroom water source, and the
Bung Seal Cap
, which fits over the bung opening and helps prevent contamination. You might also want a jug for transporting water from your barrel into your kitchen or bathroom. For this purpose, we offer a
Standard Five-Gallon Jug
made of #2 food-grade plastic, with a separately sold
spigot
, and both a
5-Gallon and 2.5-Gallon Collapsible Jug
that come with spigots. You'll also need
Aquamira Water Treatment
that can keep a water barrel free from "bugs" for 5+ years.
How long will my water last stored in a barrel?
Water, unlike food, doesn't spoil or "go bad" with time. However, we recommend rotating your water once a year or using
Aquamira Water Treatment
to make sure that your water is absolutely fresh when it comes time to use it. If it was clean when you put it into a clean barrel, and hasn't been contaminated since, it will last indefinitely. If it tastes "flat," just pour it back and forth between containers to aerate it before drinking. If you notice any strange odor to your water, however, you can of course change it out or treat it with a purifying agent. (See our blog post on
water filtration and purification
.) One of the easiest ways to begin or increase your water storage reserves is to purchase a water barrel combo to help you with your water storage maintenance. The 55-gallon combo is a great introduction to water storage for beginners, but it is also perfect for those who have water storage experience, making it easier to store and retrieve your water. For more information on water storage, filtration, and treatment visit these links:
Water Storage Insight Articles
Water-related Blog Posts
"Water" Search results on Beprepared.com