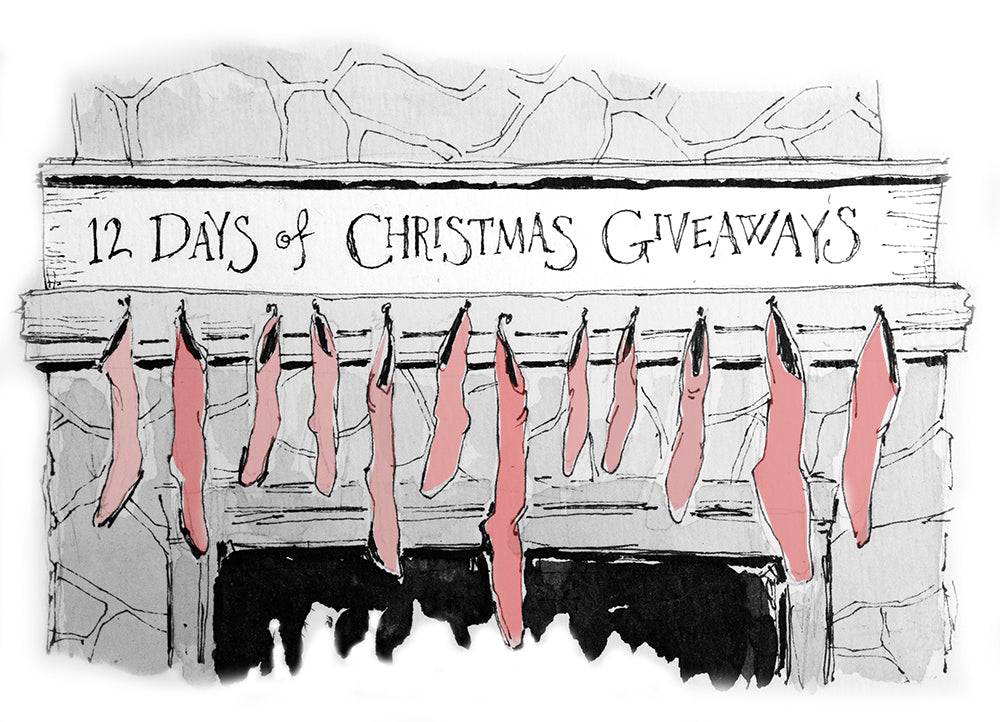 It's time for the 12 Days of Christmas Giveaways for 2014! Our theme this year is the Christmas song "The 12 Days of Christmas," and features original artwork by our in-house illustrator, Nate!
Check back every day for the announcement of a new prize and a chance to get extra entries—you can do some of the entry methods (like tweeting and sharing on Pinterest) every day of the contest to increase your chances of winning. You can also refer friends through social links for bonus entries! The contest runs from today until 11:59 p.m. on December 18th. We'll announce all 12 winners on the December 19th.
Good luck! I hope you win!
Sarah
a Rafflecopter giveaway
On the first day of Christmas, my true love gave to me... a partridge in a pear tree.
Win a case of MRE Pears ($180 value)! Eat them now (they're actually really tasty and a great snack or side dish) or hang on to them as part of your food storage.
If you're new to preparedness or food storage, you can learn more about MREs right here (scroll to the bottom of the page and click on the grey bar that says "Everything You Need to Know About MREs").
On the second day of Christmas, my true love gave to me... two turtle doves.
Two large cans of Freeze-Dried Turkey ($119 value)! Freeze-dried meat is a breeze to work with. Just add hot or boiling water to the amount of turkey you need, and in minutes it's ready to eat or use in a recipe. Trust me, you'll love it.
We have a handful of turkey recipes you can try out—and, of course, you can always substitute turkey into any of our chicken recipes. Have fun exploring the possibilities and testing recipes to see what you and your family love.
On the third day of Christmas, my true love gave to me... three French hens.
What better way to enjoy three French hens than in Chicken à la King? Yum! (Sorry, hens!)
If you're the lucky winner of today's prize, you'll get three large cans of Mountain House Chicken à la King ($113 value) shipped right to your door. Bon appétit!
On the fourth day of Christmas, my true love gave to me... four calling birds.
Win a four-piece communications pack, which includes a mini radio, a Fox 40 whistle, an emergency signal mirror, and a Charger Emergency Hand Crank Flashlight. ($48 value)
On the fifth day of Christmas, my true love gave to me... Fiiiiiiive Golden Riiiiiiiiiings!
Win an Emergency Cooking Combo with "five golden rings" of fuel starting disks ($57 value). (Combo normally includes three fuel disks.)
On the sixth day of Christmas, my true love gave to me... Six Geese a-Laying.
Win a 6-piece food storage eggs pack (a $144 value)! You'll get one small can each of egg white powder, whole egg powder, and scrambled egg mix, plus one large can each of Emergency Essentials Scrambled Eggs with Sausage and Mountain House Scrambled Eggs with Ham and Red and Green Peppers. And to top it off, you'll get a copy of Peggy Layton's book Cookin' with Dried Eggs so you can become an emergency egg-cooking prodigy.
On the seventh day of Christmas, my true love gave to me... Seven Swans a-Swimming.
Win a 7-piece water storage combo (a $242 value)! You'll get a 55-gallon water barrel, an emergency siphon hose, a barrel buddy bung wrench, a pack of Aquamira water treatment, a Barrel Bag, a 5-gallon water jug, and an Aqua Pod! That gets you started on your stationary (barrel), portable (jug), and temporary water storage (Aqua Pod). Talk about "just add water!"
On the eighth day of Christmas, my true love gave to me... Eight Maids a-Milking.
Win eight small cans of our popular Nonfat Dry Milk! You choose: fortified, regular, or any combination of the two. ($52-54 Value!)
On the ninth day of Christmas, my true love gave to me... Nine Ladies Dancing!
Because Christmas dancing can also lead to Christmas injuries, our day 9 prize is a Medics First Aid kit ($111 value)—in case one of those dancing ladies sprains an ankle. This kit has over 175 items inside, including a copy of Wilderness & Travel Medicine: A Comprehensive Guide so you can handle unexpected sickness or injury when you can't get to a hospital.
On the tenth day of Christmas, my true love gave to me... Ten Lords a-Leaping!
Win a Fire Escape Ladder! Because neither you nor your Ten Lords should have to leap out the window of a burning building.
Use this instead to climb down from a second story window when other exits are blocked.
On the eleventh day of Christmas, my true love gave to me... Eleven Pipers Piping!
Win a two-piece communications and music pack featuring a Kaito Voyager Pro radio and Goal Zero Rockout Speakers ($159 value). Stay connected in a crisis, and party like it's 1999 the rest of the year!
And the last and final Day!
On the twelfth day of Christmas, my true love gave to me... Twelve Drummers Drumming!
Win our best prize of all! A 320-gallon Water Reserve combo! Instead of musical drums, we thought you might enjoy some huge water "drums" to store your family's water supply! The combo includes two 160-gallon water reserves (barrels, drums, tanks... whatever you call them, they're huge—and hugely awesome), 6 Aquamira water treatment packs, and a 50-foot  high-pressure drinking water hose.
Learn more about the water reserve in this video:

And be sure to do your daily entries! The giveaway closes tonight (12/18/14) at 11:59 p.m.—we'll announce the winners tomorrow, so check back near the end of the day to see if you won!