In many parts of the United States, the first snow has already fallen. In some places the storms were doozies: Parts of Reno, Nevada received 10 inches of snow on November 11 and Denver saw its first blizzard in five years on November 16.
So, isn't it time prepare your car for winter?
First, make sure the car is running well, said Rolayne Fairclough, a spokesperson for AAA Utah.
"Take it in and have a mechanic prepare it for the winter," she said.
Make sure the battery is fully charged, because it's weaker in cold weather. Mechanics can test it or some car parts stores will test it for free, according to an article in Kiplinger.com, a financial planning site. If you know your battery's powering down, you can replace it at your convenience and at a better price, the site said.
Make sure hoses and belts aren't cracked, Fairclough said. Winter can increase cracks and cause breaking. Also make sure the exhaust system is leak-free so carbon monoxide doesn't fill your car.
Whether you choose all-season or winter tires, make sure they've got enough tread, Kiplinger.com said. The web site for The Tire Rack, a tire vendor, demonstrates a coin-based way to check the tread.
Its site points out that at 1/16 of an inch, the minimum tread required by law in most places, "resistance to hydroplaning in the rain at highway speeds has been significantly reduced, and traction in snow has been virtually eliminated."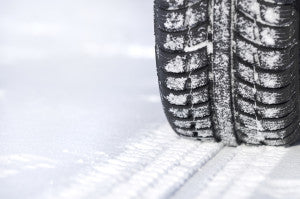 You may have been told to under-inflate tires to give them more surface area. That only helps if the snow is deep and soft, said the Kiplinger.com story. On a normal drive, under-inflated tires act more like hydroplaning tires because they don't grab the pavement as well as fully inflated tires. Also, remember tires lose a pound of pressure for every 10 degrees Fahrenheit temperature drop.
Make sure your brakes are in good condition.
Check windshield wipers and wiper fluid too. Windshield wiper blades have a lifespan of about a year, according to the Kiplinger.com story. In places that get especially cold, put an antifreeze solvent in windshield washer reservoirs, according to the North Dakota Department of Transportation.
Make sure all the fluids are full and clean, especially antifreeze and windshield wiper fluid. If you live in a really cold area, make sure the antifreeze solution is good for temperatures 40 degrees Fahrenheit below zero, according to the North Dakota Department of Transportation site. Car parts stores carry an antifreeze tester that's less than $10, according to Kiplinger.com.
Check to make sure leaves and debris haven't filled the opening below the hood and windshield: they can block water flow, according to Kiplinger.com. Also make sure nothing under the car is loose or hanging down so it doesn't get torn out if you drive over deep snow. Finally, clean and wax headlights.
The second step is to make sure you've got an emergency kit, Fairclough said.
Keep cold weather gear like blankets or a sleeping bag, boots, a coat, and gloves in the car, she said. Aluminum "space blankets" can fit in a glove compartment.
Bring a power source for cell phones, a radio, and a flashlight with extra batteries.
Believe it or not, a candle can heat a whole car's cabin, Fairclough said. Carry matches too, because extreme cold can freeze some lighters.
Add water and a metal container for melting snow or drinking. Also bring high-energy food like candy, raisins, nuts, dehydrated fruit and jerky. Don't forget toilet paper.
Finally, take tools and equipment for the car: signaling equipment like bright cloth or flares, chains, booster cables, a nylon rope, and a shovel, and sand or kitty litter for traction.
In a pinch, you can use the car's floor mats for traction, Fairclough said.
"A lot of people just don't put a shovel in their cars," she admitted.
Third, take a few minutes to prepare before you go anywhere. Dress for the weather. Carry a cell phone and charger and make sure to tell someone your departure time, route and expected arrival time, suggests the North Dakota Department of Transportation. Check road conditions before you leave.
Keep the gas tank more than half full, Fairclough said.
"If you're detoured, you have some flexibility and don't have to worry about running out of gas," she said.
Finally, drive for the conditions. Although winter months see fewer fatal crashes, they see more small ones, Fairclough said. Typically they're from people driving too fast and too close together.
You can find detailed hints for what to do if you get stranded in winter at the North Dakota Department of Transportation's web site.
Have a safe winter!
How is your car prepared for winter weather?