The largest recorded wildfire in Washington state history that began on July 14th, 2014 has now scorched about 400 square miles of land. And as of August 4th, 2014 the file was only 90% contained.
On July 28th, USA today reported, "the fire has destroyed at least 312 homes…and is blamed for the death of a man trying to protect his home. At its peak, it sent a huge plume of smoke drifting east across the United States."
In an assessment of the damage released by Yahoo News, Washington Governor Jay Inslee extended the pre-existing burn ban in the eastern part of the state for another week to avoid further damage.
Governor Inslee acknowledges that even though fire crews have made great progress in containing the fire, "weather conditions are still a concern" that may extend the fire's life. So the Washington wildfire could continue to blaze on.
On Tuesday, July 29th fire managers released a map showing the fire's growth since July 14th. The map shows that four separate lightning strikes created four burns that merged to create a massive wildfire. Check out the map at USA Today.com.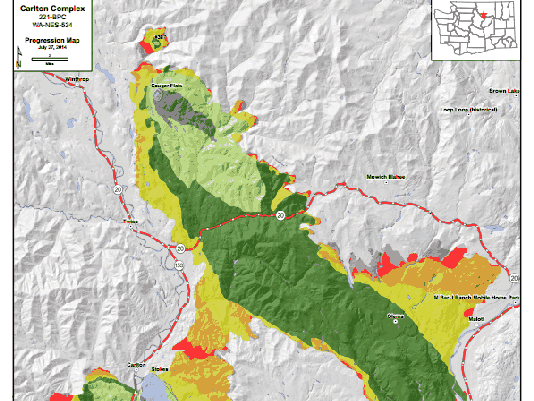 According to fire-fighting officials, massive wildfires like this (and the one currently blazing in eastern Oregon) are becoming the norm. Wildfires are now burning hotter and longer than they were more than a decade ago.
Since wildfires have been popping up all over the western US this summer, it's important to learn how to protect yourself and your loved ones during wildfire season. Check out these Ready.gov tips  to help you prepare.
For more info on the Washington Wildfire, check out these articles:
"New Map Shows How Record Washington Wildfire Grew"
"Sheriff: 300 Homes Burned in Washington Wildfire"
"Longer, Hotter Northwest Fire Seasons are New 'Normal'"
"Bear Cub Burned in Washington Wildfire Flown to California Wildlife Care Center"
If you've ever lived through a wildfire, what tips would you suggest for protecting your home and staying safe during a wildfire? If you haven't, what steps are you taking to prepare, just in case?
-Angela
Sources
http://www.spokesman.com/stories/2014/aug/05/wildfire-burns-homes-near-ellensburg/